Once live, a bar with different actions is displayed for all speakers.

A preview of your video source is displayed on the left, as well as a volumeter (green bar on the right on the preview) allows you to see, even when you are paused, your video
Sound and video management
You can change your sources at any time by clicking on the chevron chevrons at the bottom - Free arrow icons of the microphone and camera icons in the management bar at the bottom of the page. By clicking on the icon, you will mute or activate the source.
Open microphone and webcam

Open mic and cut webcam

Microphone cut and webcam open

Microphone and webcam muted

Request to speak
If you are on pause or want to become the main speaker, you can request it to the person in charge of the room by clicking on the icon below.

When you click on this icon, it turns blue and the owner of the room is informed.

When you are the main speaker, the icon turns gray


Above the control bar, text notifications inform you of your status and your state (ex: not active, main speaker, microphone deactivated)


To share your screen, a single window or a single tab, click on the icon

at the bottom center of the interface, this opens the sharing center.
All you have to do is choose what you want to share among the proposals.

If you also want to share the sound, don't forget to check the "share system audio" box, at the bottom.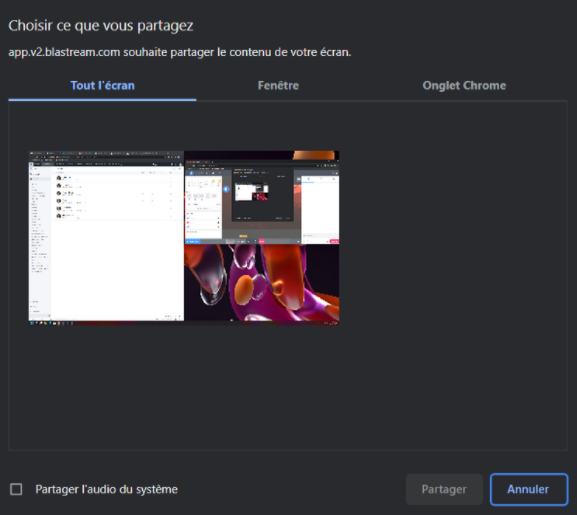 Documents
Speakers have the possibility to share a document in video.

To share a document, you must be the main speaker.
On click, the document library will open. On each document, you have several actions:
Add the document to live as a source

Share the document to the animators (this button does not appear if the sharing automatically to the animators or the common library is activated)

Share a document in the chat

Download a document

Delete a document


To upload a document, two possibilities:
Drag and drop a file from your computer onto the area
Click on the zone and choose a file from your computer

Leave the videoconference
When you click on the icon

, you are offered 2 options:
Leave and remain as a spectator: you will leave the video but you will continue to see the live
To leave ; you will quit the video as well as the live and a thank you page will be displayed to you
Player options
To the right of the control bar, you will find the button to put the video in full screen and the management of the sound of the live.