First simulcast on YouTube Live
If you haven't streamed any YouTube live yet, you need to activate this feature. Go to your YouTube account and follow the steps below:

1. Click on "create a video or post".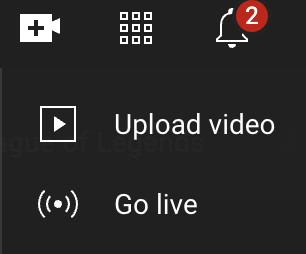 3. Choose a name for your account and follow the steps
Please note that it may take up to 24 hours to activate the live function.
Related Articles

YouTube

If this is your first YouTube Live broadcast, follow this page. Otherwise, see the following article: From the "Simulcast" menu, you can activate the YouTube broadcast: When you click on the button corresponding to YouTube live, a window appears, ...

Simulcast

If you want to broadcast your live on your social networks, go in the "Restream" category in your settings. Find more details in the dedicated page.

Live

Here you can upload different images to fill times in between live. Pre-live Image: It's when there are participant ready to go live but the live hasn't started yet for the viewers. This image will be viewed by the viewer until the live starts When ...

Rooms - First steps

Here you have the list of the rooms belongings to the Space. Let's create our first room: Channel Slug will be the name of the channel, it is unique per account. Room size depends the number of participants and simultaneous video source you need for ...

Live reactions

Live reactions give your viewers a fun way to express themselves and interact with your livestream by sending emojis that will appear on the video. Here's how the live reactions emojis appear on the video: By enabling live reactions, your viewers ...