General informations and activation
If you want to broadcast your live on your social networks, just click on "Simulcast" in your settings, then click on the desired platforms: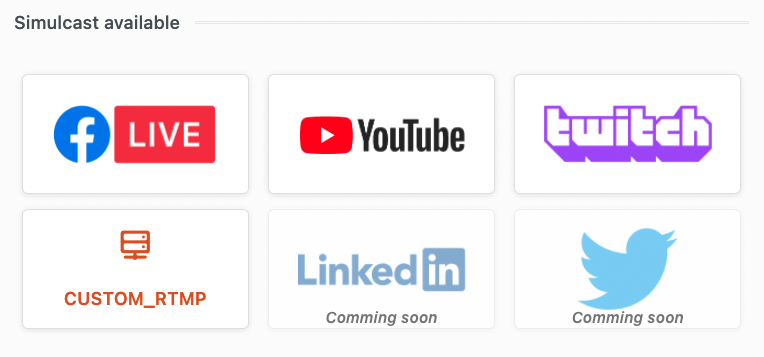 You can then simulcast on Facebook Live, YouTube, Twitch, or on any RTMP target.
See the help pages associated with the different platforms for more details.
You are now ready to Blastream!
Related Articles

General settings

General settings are available for your room in the "settings" then "general" part. You will also be able to see your maximum number of participants and simultaneous videos on the screen depending on your subscription. "Allow users to automatically ...

General introduction

The chat integrated into your Blastream room allows you to interact with all your participants and keep them active and engaged during your live video session (in livestreaming or videoconference mode). This chat is mainly made up of 3 distinct ...

General introduction

The Votes section groups together the different types of questions that you can define, configure and publish during a live: Multiple: multiple choice question Quiz: multiple choice question with only one correct answer Yes / no: question with Yes or ...

General Q&A

What is the difference between Blastream and solutions like Zoom or Teams? With blastream you produce your livestreaming: - select the speakers to display on the screen - select layout - welcome them in the backstage - scripting with the scene ...

Integrate via API

To do so, you need a Blastream entreprise account. Once it"s done you'll get access to a platform allowing you to generate your own room and use the full posibility of our Api To preview everything our api can do, you can check its documentation: ...