In your cloud video controller, the scene function is located here:

Scenes are used to smooth transitions when different elements need to be changed at the same time, such as the speaker's layout, the logo, the overlay, the background.
To create a new scene, click on "Scene" in the video control panel and then on "Add a scene".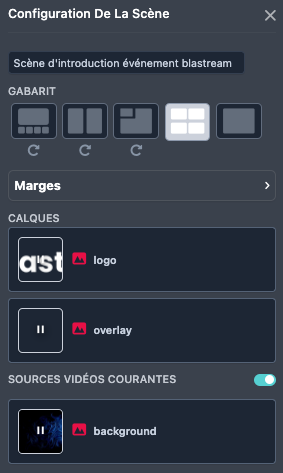 You will be able to give a name to the scene and then choose a layout for this scene. Find more information about the different layouts on the dedicated help page
here
.
Then, choose the logo, the background and the overlay of your choice (you can also choose not to put any, by clicking on the pause logo).
If you check the "current video sources" option, sources such as participants' cameras and documents will not be modified, only the layout and the chosen layers will change.
If you uncheck this option, you will be asked to select the sources to display on this scene. You can choose :
- One or more speakers
- Group
- Document
- RTMP source
- Screen sharing
You will also be able to change the margin settings for your scene. Find more information about margin settings on the dedicated help page
here
.
Once your scene is set up, you will find it in your scene library. To launch the scene, simply click on the
M
and then on the Play
icon on the right of the scene.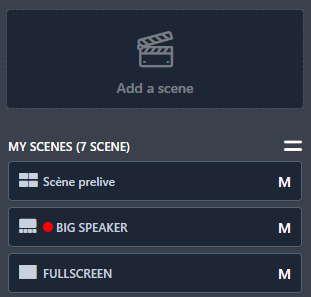 The current scene is always indicated by a red circle

You can delete all your scenes by clicking on the red button "delete all scenes".